March 2016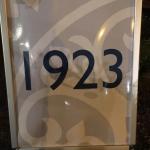 Time for my monthly Feed Report. Don't worry though. I am eating the rest of the time. :)
1923 is a new restaurant, having opened in January.
Should I tell them it's 2016 now? They're out by 93 years. :|
Maybe I should send a telegram. :)
The place is completely empty when I arrive. The friendly waitress tells me I can sit anywhere. I'll be sensible and limit myself to sitting on seats.