February 2017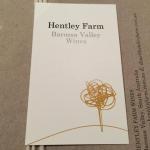 It's over an hour's drive up here, and then off onto a stretch of dirt road. The lengths I have to go to, to get a decent meal. :(
:)
This has been my first Feed Report for a few months. I've basically run out of fancy restaurants in Adelaide. :)
Tonight's dinner will be a seven-course degustation.
I unpack my legs, and head inside.
The place is a group of very neat stone farm buildings, augmented with polished slate floors and modern lighting. Very fancy.
The internet here is only 3G! I'm struggling to load a single web page!
Halp!