January 2016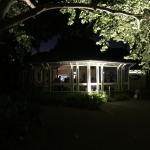 I park my car, and head to the map location that Zomato and Google both tell me is the place to go. There turns out to be nothing there. I didn't think the Botanic Gardens extended this far.
Upon arrival, I'm pleased to discover other forms of wood, such as planks, beams, and boards. These combine with other building materials, to form a typical structure, suitable for use as a restaurant.
If this place relocates, you could say they're pulling up
…never mind. :)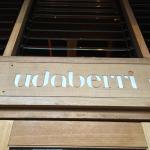 "Udaberri."
"No, U da berri!"
Tonight, we shall all be da berri.
This place has a wooden structure, low ceiling, and is dimly lit. It's very reminiscent of a sailing ship. I'm one of those salty seafarin' types.
Everyone's seated at a single bar.
I'll be starting with the pintxos, Basque entrees. Each is a single bite.
If something is a single bite, doesn't that mean it's actually zero bites? :)